TablePress is a free and open source plugin for the WordPress platform. It enables you to create and manage tables on your website, without any coding knowledge. A comfortable interface allows you to easily edit table data. Your tables can contain any type of data, like numbers, text, images, links, and even math formulas! In addition, features like live sorting, pagination, searching, and more can be enabled for your site's visitors.
How to Create Tables in WordPress with TablePress
Now that we've covered this plugin's features, let's dive into how to use TablePress to insert tables in WordPress.
Creating a Table From Scratch
Let's start our tutorial by checking out how to create a table from scratch with TablePress's very straightforward and intuitive interface.
Step 1: After installing and activating the plugin in your dashboard, head over to WP Admin > TablePress. This page is the control center of the plugin. The process of creating, editing, and customizing tables will all start here. The first time you visit the page, you'll find a welcome message with FAQ, documentation, and support links as well as a list of your tables (will be empty). To start, click the "Add New" button on the page's navigation.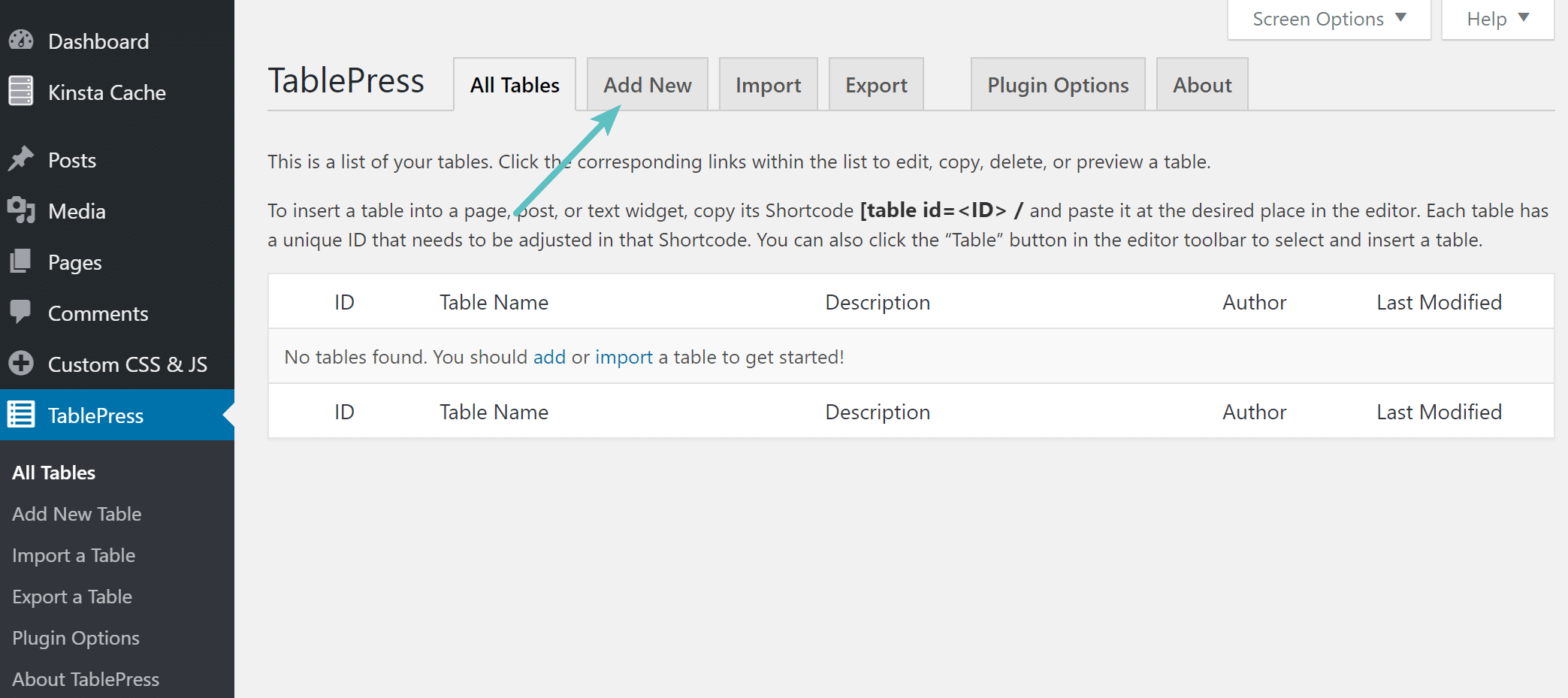 Step 2: On the Add New page, you will be prompted to key in a name for your table, enter a description (optional), and specify the dimensions of your table (number of rows & columns). Once you've done that, click the "Add Table" button. As an example, we'll do a table of fictional cake bakeries.
Step 3: On the next page, your table will be assigned an ID and a shortcode you'll use to add the table into your posts and pages. You'll also start filling out the individual cells of your new table. The interface you use to fill out the table is simple and uncomplicated and is somewhat akin to your average Excel spreadsheet. Here's what it looks like when your table is all filled out.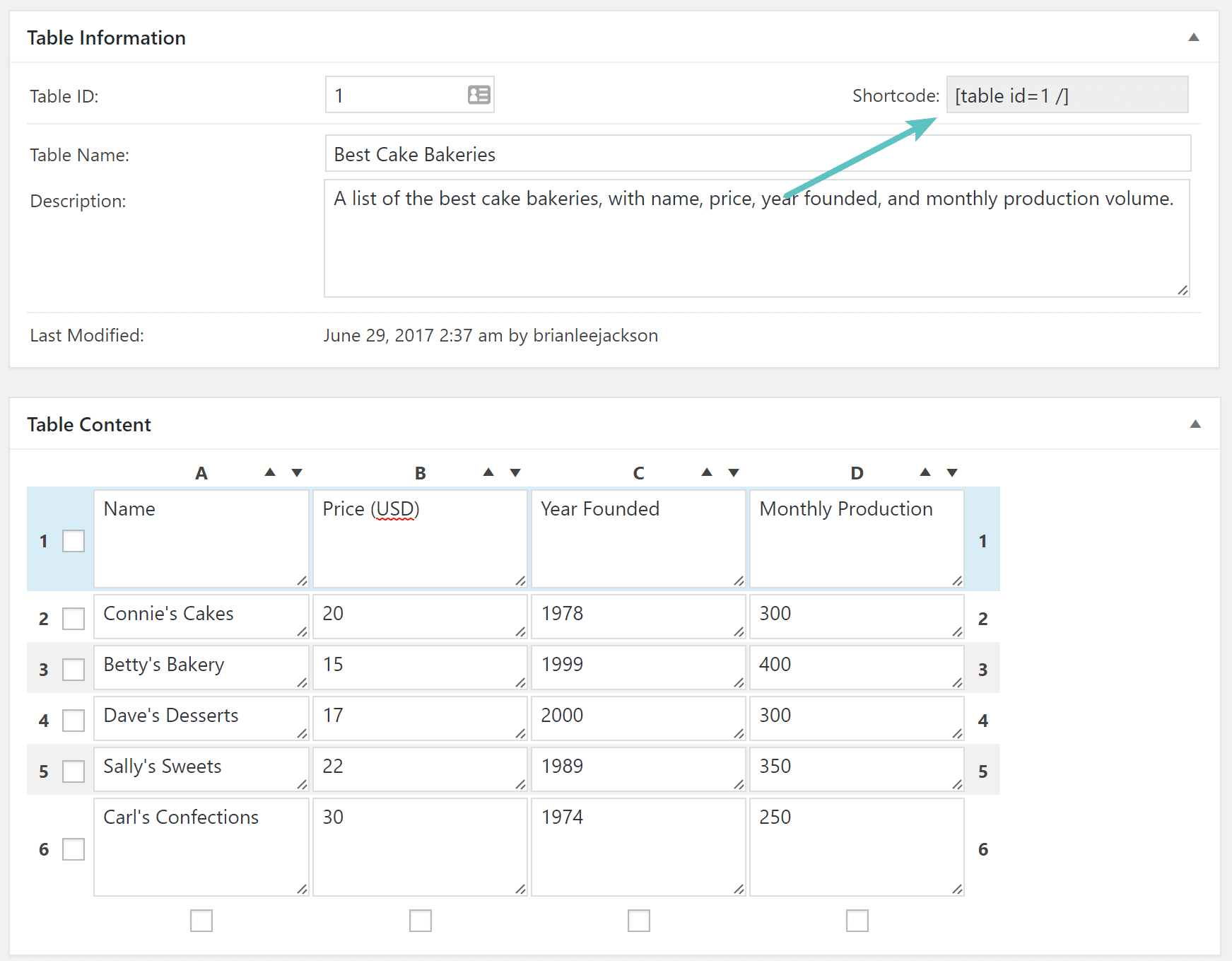 Step 4: Further down on the same page you can play around with some basic options. You can insert links/images in your cells, duplicate/delete selected rows and columns, add CSS classes for styling purposes, combine cells, alternate color by row, enable sorting/pagination, and more.
The plugin automatically assumes that your first row is the header row for the table, but you do have the option to prevent that and even change the last row to a table footer.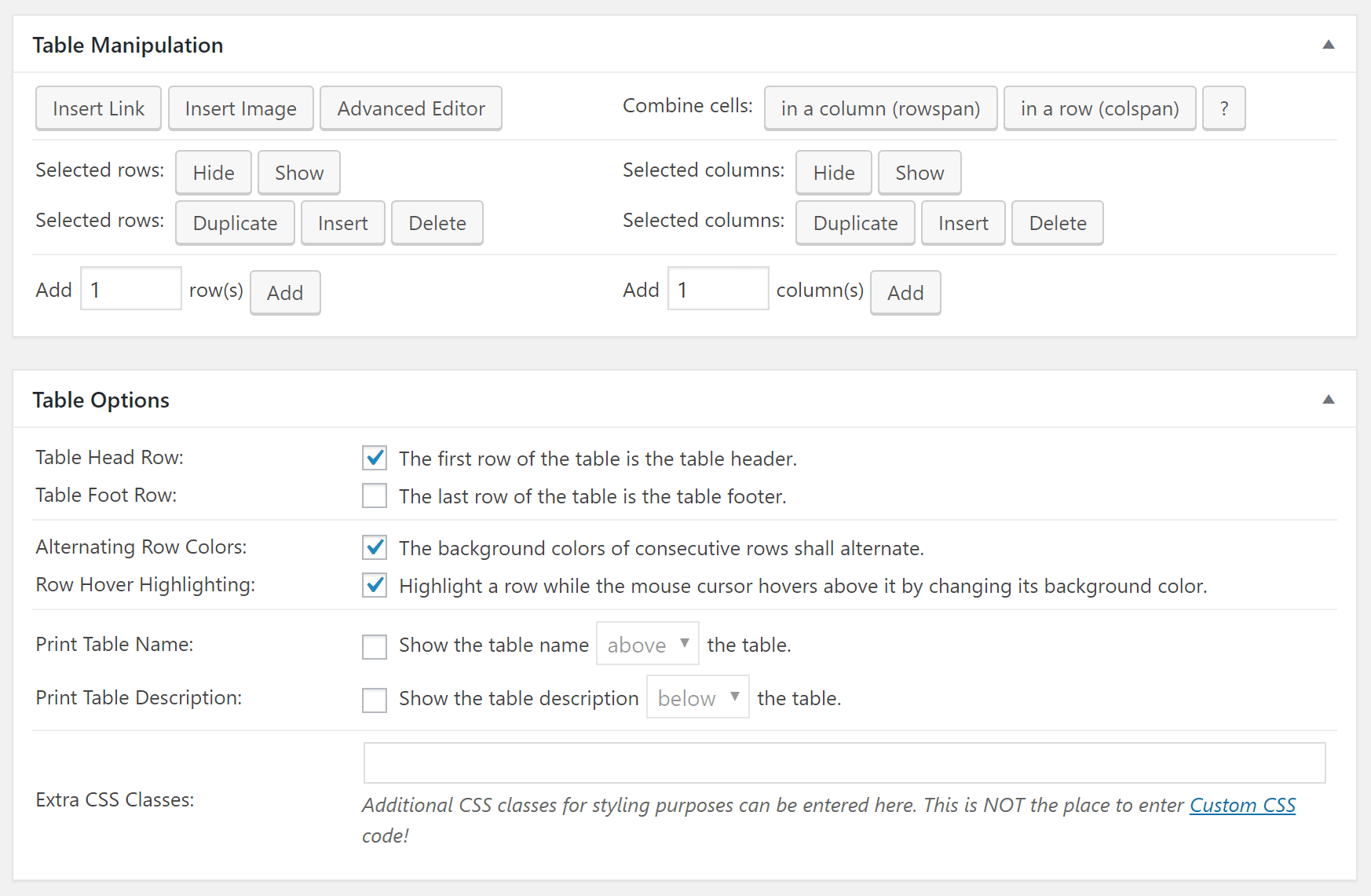 There is also an "advanced editor" button that gives you a slightly more functional interface in which to key in your table's data.

It's quite time-consuming to use, though, since you have to click that button, then click the cell you want to edit in order to get access to the advanced editor — and you've got to repeat that for every single cell. In our opinion, it's really not worth the trouble. But depending on the amount of data you are entering it could be useful.
Step 5: Once you're all done editing the table and have customized the options, hit the "Save Changes" button, then the "Preview" button at the bottom of the page to get a basic idea of what your table will look when inserted in a post or page.
We've found this preview to be quite a long way away from what your finished product will actually look like, in terms of styling. Since so much of the styling is dependent on your theme, the preview doesn't really do justice to the final look (which is really much better than the clunky table you see in the screenshot below).

Step 6: Now in a post or page, you can insert the table two different ways. The first is by copying and pasting the shortcode from earlier. For our example table, since it was the first one we created, the shortcode is "[table id=1 /]". The shortcode format is very easy to remember.
The second way is to use the "Insert a Table from TablePress" button in the visual editor toolbar.
Here's an example of what the final output will look like on a website running the default Twenty Seventeen theme. The styling isn't bad by any means. Note the pagination and search options for website visitors.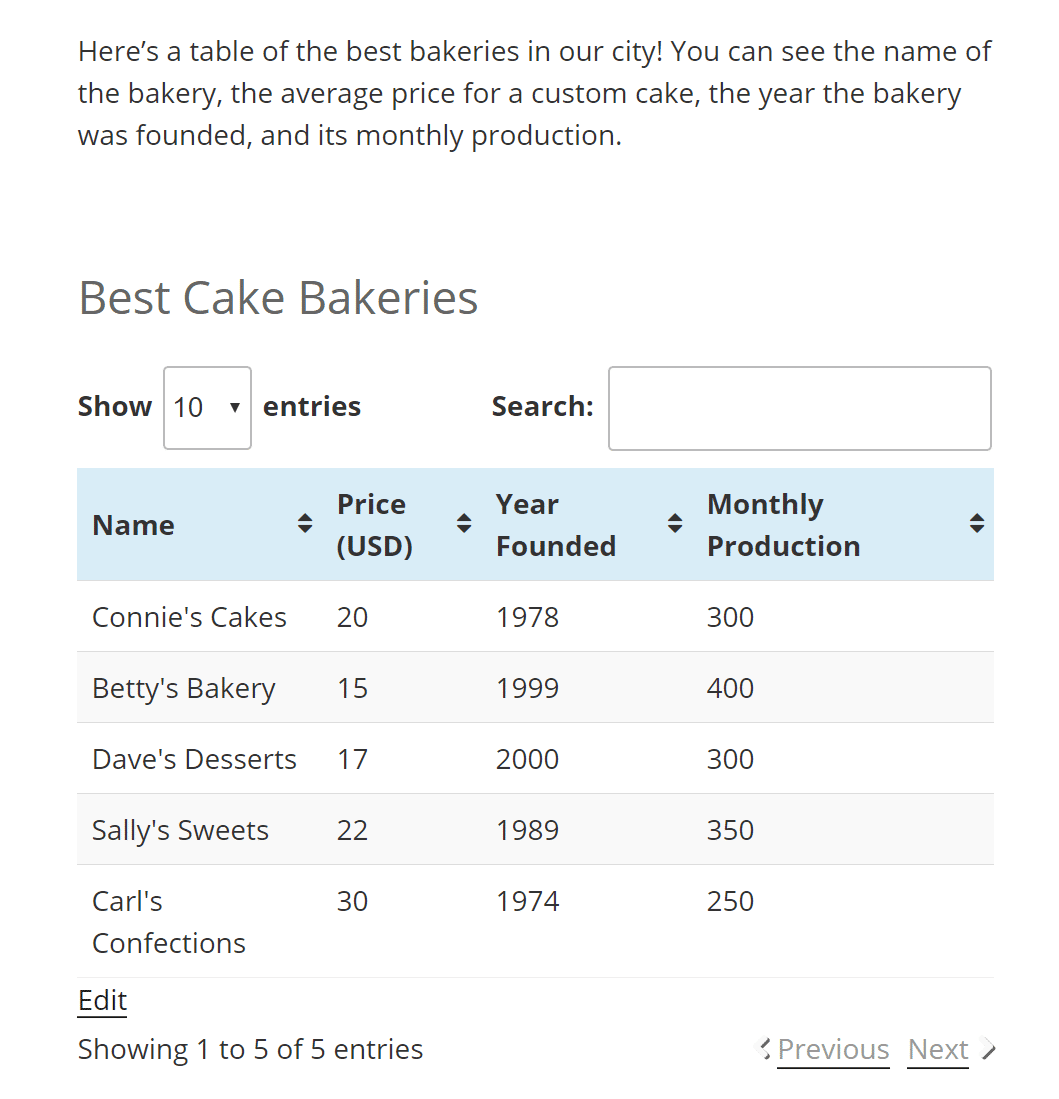 Importing a Table
If you've already got your data ready (such as an Excel sheet or Google Sheets document) and waiting to go in an external format, you can import it right into the TablePress plugin.
Step 1: To import a table, navigate to WP Admin > TablePress > Import a Table. On this page, you'll select your import source (direct upload, URL, file on the server, or manual input into a blank text area). My example data comes from a Google Sheets document which we downloaded to CSV format.
What's really cool about this part, though, is that you can choose to use the imported data for either a completely new table, or as replacement/additional data for an existing table that you've already created. In this example, we are going to add a new table.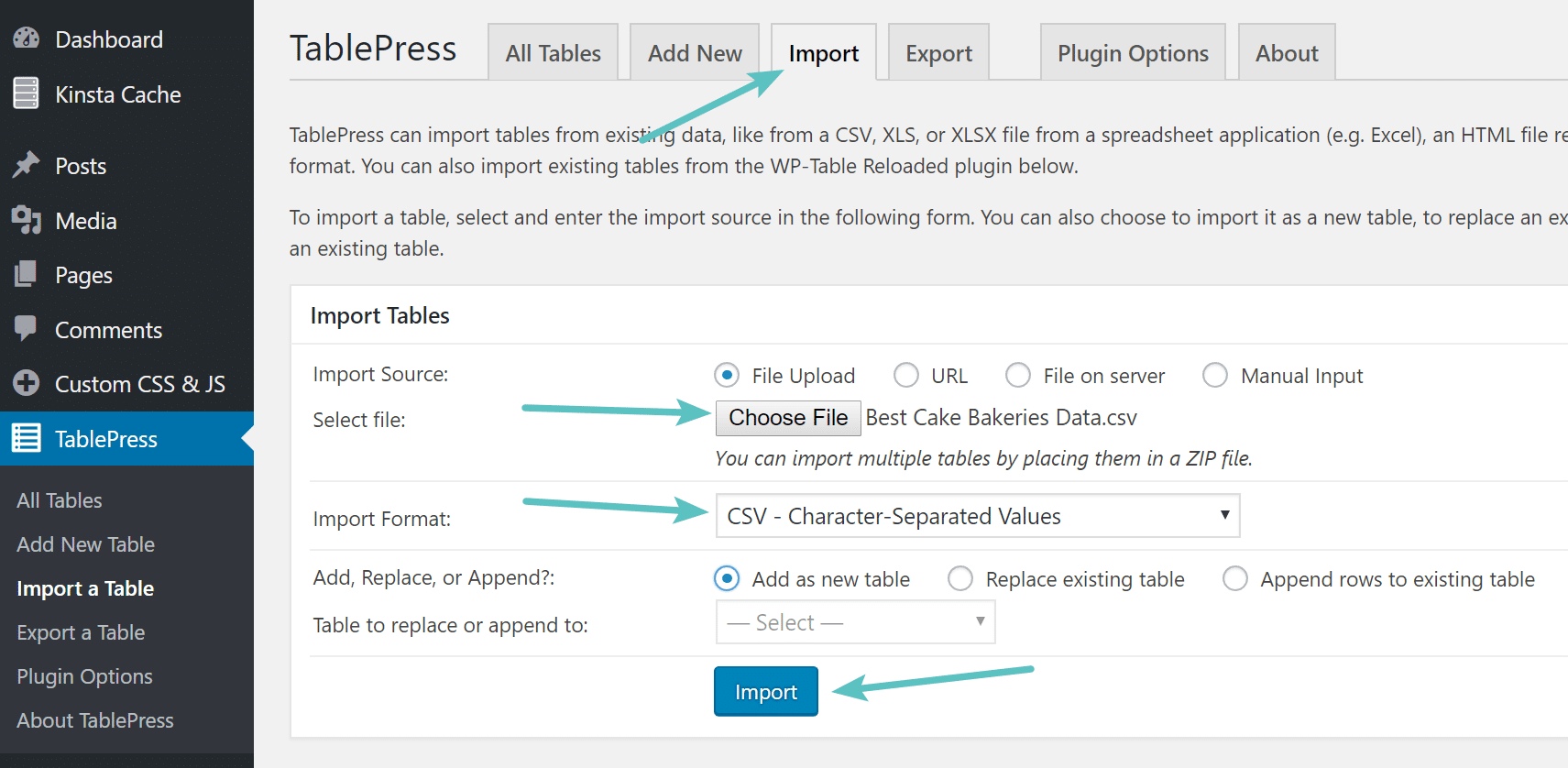 Step 2: Once you click the "import table" button, you'll be redirected to the exact same editing page as when you created your table from scratch. Except this time, the table name, description, and content have already been filled in. All that remains to do is customize the options down at the bottom.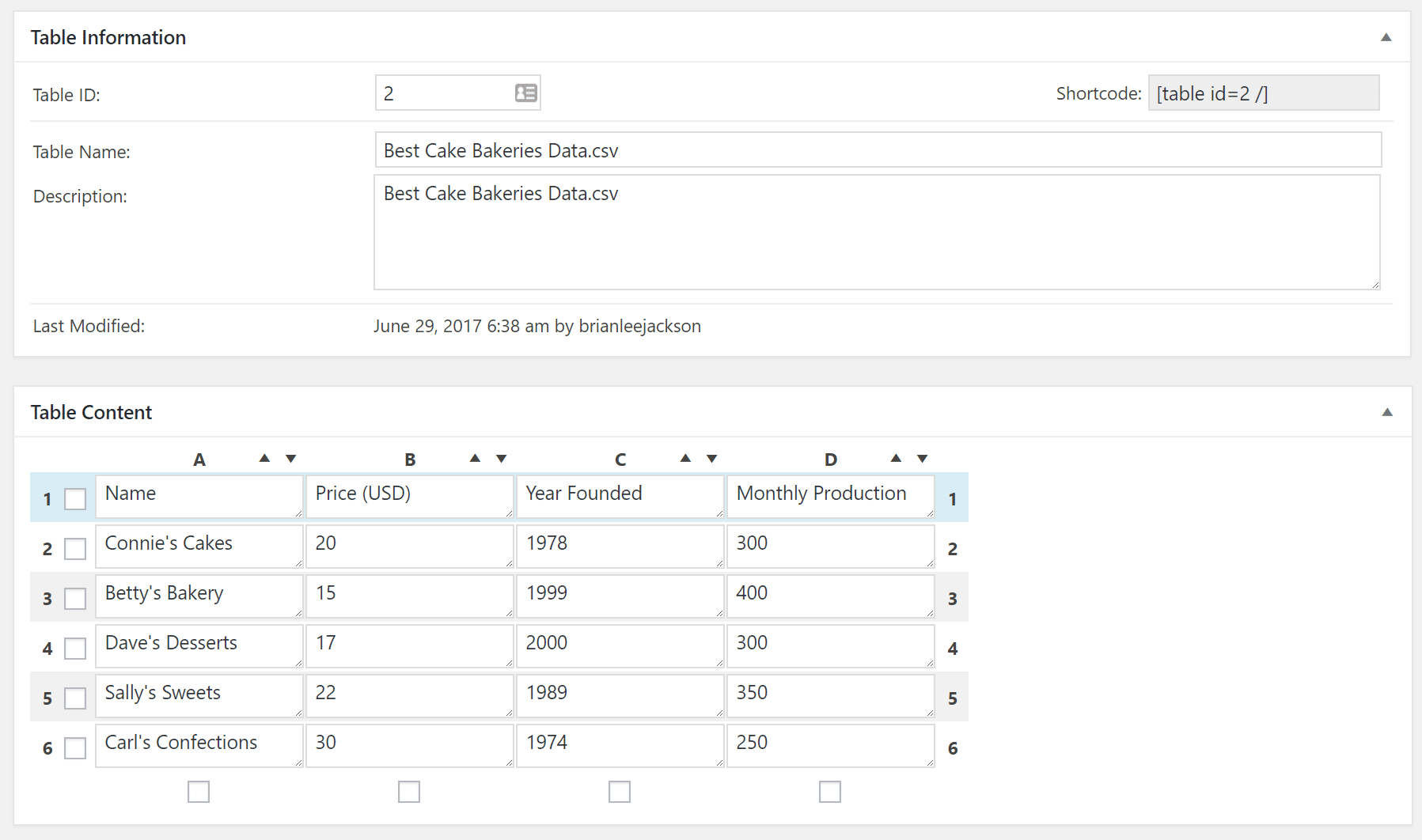 Step 3: Once again, use the assigned table shortcode (this time for the 2nd table it was [table id=2 /]) in a post/page and enjoy the result. Note that since all the data was the same as when we created the table from scratch, the output was also the exact same.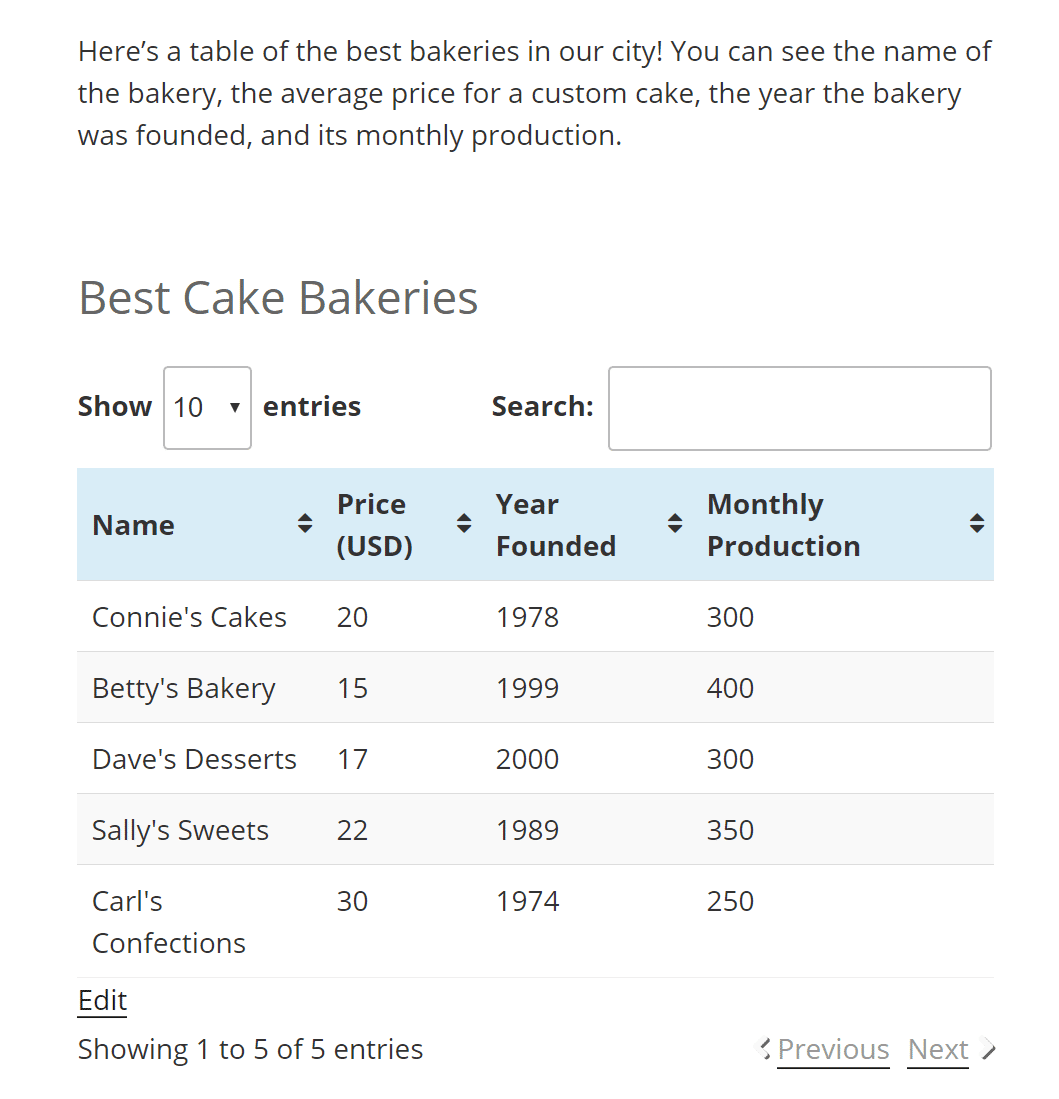 Exporting a Table
Like we discussed at the beginning of this post, the plugin also comes with a built-in option to export your tables. It's an incredibly simple one-step process.
Step 1: Navigate to WP Admin > TablePress > Export a Table. Here you can select which table(s) you'd like to export, and in what format (CSV, HTML, or JSON). If you use the CSV option as we have below, you can also set the CSV delimiter to a comma (,), semicolon (;), or tabulator (\t). If more than one table is exported at a time, a zip archive is mandatory.

Once you've selected the right table and export format, just hit the "download export file" button and get your data.
Plugin Options
TablePress's plugin options page is a pretty meager one. Although it offers an easy-to-use interface and lots of import/export options, the built-in customizability is pretty limited, as you can see below (although it can be extended somewhat with the add-ons).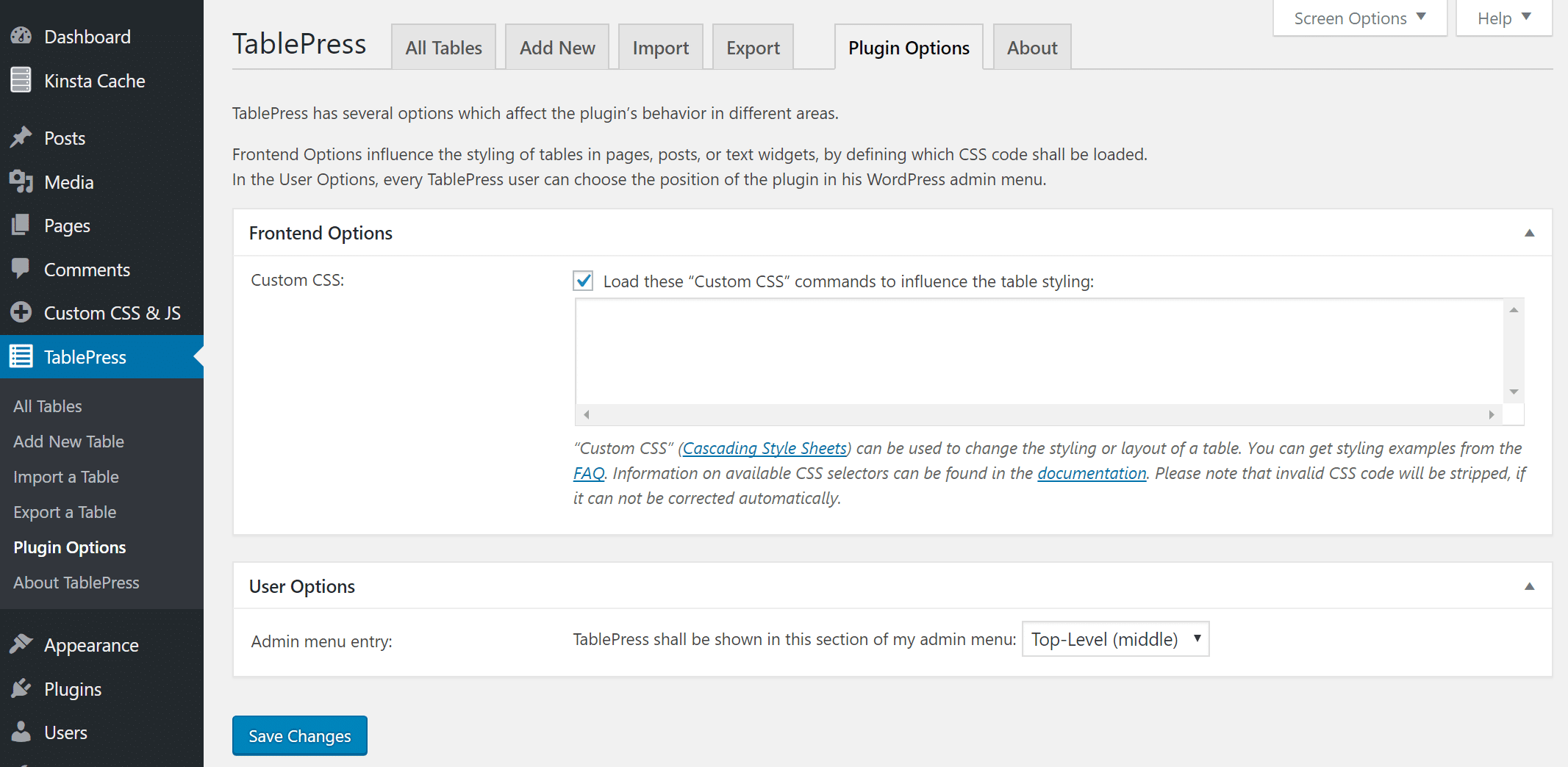 To do any real styling customization, please contact us for options.
Source: Kinsta.com
---
If you have any questions, please contact the website administrator or content manager listed on the site's Contact page.